Adopt Jeden a Tan/Yellow/Fawn - with Black Pug / Mixed dog in Oro-Medonte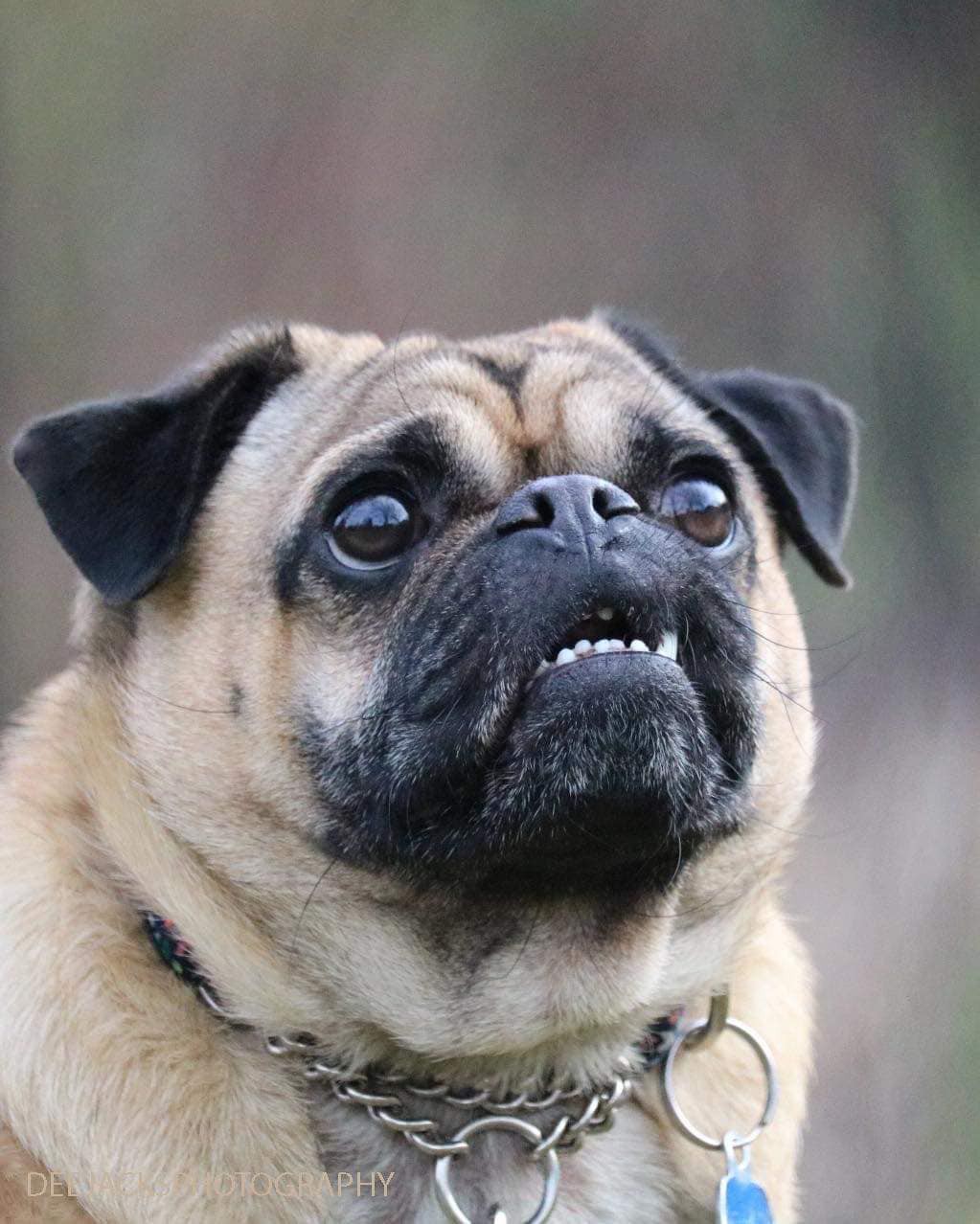 Location:
Oro Station, ON
Description:
Hello there! It's me Jeden. I'm on a quest for for my special person! I know your out there somewhere! I am an approximately 4.5 year-old male PUG MIX. I have been neutered, vaccinated and microchipped. I weigh in at about 24lbs. Please watch my waistline as I am prone to being portly. Please don't feed me human food no matter how pathetically I look at you. It's important for my health and joints that I don't pack on excess weight. When your my size even 1 extra pound can make a difference! I am a cute little fellow and no doubt I'll melt your heart at first sight but please for my well being and yours don't let your heart lead you. I may be little but I'm large on personality and attitude. I would do best with an experienced person, or persons that can accept that I am a dog, expect me to be a dog, dedicate themselves to a human/dog relationship, be consistent with rules/boundaries, and definitely have a sense of humour! I'm seeking a leader I can respect, trust and depend on who will let me be the dog I was meant to be. To me this is love and loyalty. Please guide me and help in the direction of making wise decisions. I am a very goofy fun loving fellow but I don't always make the best choices, for instance I have a tendency to get quite wound up. It is important not to let me escalate to this state. When I get excited remain calm and direct my energy into performing a task, such as walking it out or concentrate on working on sits or other skills. When I see things I don't understand, I will bark and if my energy is not redirected quickly enough I can get overly stimulated. I can react to other dogs, bicycles, joggers and even things I see on TV. I do enjoy watching TV but this can be a trigger! I will shriek and lunge at the screen randomly. You will have to censor what I'm watching! Distract me by asking me to sit or calmly lead me out of the room. Ideally it would best for me not to watch T.V, at least for now.Enrolling me in Balanced Training would really help me learn how to cope with situations that amp me up. A trainer can also teach you skills of predictability so you recognize my triggers early on and learn how to effectively redirect me. I would love to be couch potato. I want to sit on the couch or climb into bed with you. One day I hope to earn this privilege but I'm still a long way off from being granted this position. This is a position of equality and high standing. It's important for my state of being not to be elevated or placed on a pedestal. If you weaken and give in to me it can create a set back in the balance of human/ dog hierarchy and put us back to square one. Remember that my ultimate goal is to be a well balanced dog please help me achieve greatness! On my leash I tend to want to lead and am prone to pulling. A properly fitted Martigale collar, good technique and timing has been the best method. Many people will suggest a harness ,I have been there, done that and it's not effective for me. The harness was encouraging me to pull harder so that my front legs were off the ground and I was lunging forward. This repetitive motion caused chafing under my forelegs, rubbed my fur off and my skin became quite raw. Using my Martingale has been a much more comfortable option for me. My foster mom has been instructed by an experienced trainer how to fit the collar and hold the leash correctly. She now has more control and I am much more receptive to gentle communication through my leash and I am getting a more concise message. With this simple change I am quite capable of walking properly at foster moms side where I belong but it's important that you expect this to. If I try pulling, quickly turn tail and go the opposite direction, eventually I figure out that I'm not really getting very far. This turning technique also works well when I see triggers on our walks. If something catches my attention, say for instance a goose, motorcycle or people jogging, I will stop, stand still and stiffen up. I will then start to bark and try to lunge towards it, even if it is quite a distance away. Do not hesitate long enough to give me the opportunity to focus on the distraction and get amped up. When seeing other dogs, people, motorcycles or bicycles on our walks, remain confident, keep moving and remain in control. Watch my body language and if you see me starting to wind up, turn and go the opposite direction before I get a chance to escalate, don't forget to reward me when I follow your expectations. Conditioning me to distractions gradually in a positive manner is the best idea when it comes to exposing me to new things so I learn to cope. Perhaps when starting off with me you can practice walking in areas that are quieter with less distractions and as I progress, gradually add in distractions at a distance, perhaps asking a friend or neighbor to help you. Praise me by telling me "yes!" in your most happy and sincere voice. You will have to be consistent about taking me on my walks. If you miss a day it's like starting back at the beginning. Walks also help me release my energy, satisfy my instinct to move and help develop trust and a relationship bond.In my foster home there are 3 adult female dogs, and one adult male. Foster mom is always present during interactions and I am always on leash, held in foster moms hand or on a waist leash. I don't really interact much with the other dogs. I'm more into myself and the humans in my foster home. I like to be bossy and I don't like it when other dogs try to dominate me such as putting their head over my back, this can result in a scuffle. I must admit I have a bit of a Napoleon complex. I do much better with the, older female dog in my foster home who is just my size and tends to mind her own business. On my walks I am interested in some dogs more then others. I act brave and put up a tough guy act by barking and lunging on my leash. I do this more so if they react to me. Foster mom recognizes this and quickly and calmly intercepts before I get the chance to make a fool of myself. She responds by turning heel and off we go in the other direction. In future dog companions I think I would prefer calm easy going dogs. Dogs that are not in my face and know how to respect personal space are preferable. A slow positive introduction of just existing in the same space and moving on till trust and familiarity is formed. You would have to closely monitor interactions to ensure that I don't put on my bossy pants. I do think I would honestly prefer being a only dog most of all. There are two cats in my foster home. I have always been on leash and leash in hand during any interactions. Right off the bat I gravitated towards them more so then the other dogs. I did not bark at them nor I did I attempt to chase them. Foster mom was quite impressed that I approach them calmly, I like to sniff them and follow them around, but the novelty has kind of worn off now so I just go on about my business and them theirs. Please keep in mind that the cats in my foster home are very dog savvy. Not all cats are so accommodating and each cat is different. If I get adopted by a family with a cat or two It would be very important to do slow introductions always on leash with a positive approach so we can form a respectful relationship. Interactions with cats and all new dogs should be supervised to form mutual respect. I should never be allowed to chase cats and cats should have a secret place to go when they don't want to socialize with me. Kids, There are no children in my foster home. Due to my history of getting overly stimulated and the fact that children can be easily and frequently excitable there is the potential for me to get carried away and involve myself. Therefore I will not be adopted to a household with children or teenagers. It is recommended that I go to a home where everyone is 18 plus and very respectful of my personal space. I do have a bite history with teenagers or persons that don't respect my boundaries. It's crucial that my adopters do balanced training with me so this does not happen again. It is important that you advocate for me and not put me in situations that can result in an unfortunate incident. This does not mean I should be sheltered and coddled I should get out there, experience life and have positive exposure to things that I have not been exposed to or have been difficult for me. It is important that it be a positive experience, taken slow and always remember to reward me for good behaviour. My foster family make it very clear that both myself and visitors follow the rules and expectations of my foster home. People sometimes need reminders to respect rules as much as dogs do. Strangers should always ask if they can pet a dog and it's ok to say, "No".Visitors are asked to ignore dogs when coming to my foster home and let the dog come to them. I want to be make friends but to go about it at my own pace and not be pressured. Please advocate for me by telling strangers to give me space and back off. If strangers try to win me over by trying to pet, stand over me or talk to me like a baby, it makes me uncomfortable, please don't put me in the position of having to tell them myself! I would enjoy a calm, quiet predictable household without chaos. This would be the best type of environment for me. Crate I love my crate, it's my sanctuary. I go in easily, just guide me in with my leash. My crate is covered with a blanket on 3 sides, I like to see out the front. In my crate I only have a toy and a towel . I do snore but since I have lost weight this has been a little quieter and I admit to the occasional flatulence! When I first came to my foster home If I thought nobody was home I would bark but settled on my own. I don't do this anymore but I may do it in my adoptive home until I adjust. If I hear someone ring the door bell or knock on the door I will bark but stop with a firm "that's enough".Should I make noise in my crate please do not take me out until I am quiet. I am a very smart fellow and will quickly learn if I make noise you will take me out and will try to use this to my advantage. My foster family takes me outside each morning before breakfast I am a little bit lazy in the morning and don't always want to come out right away. I go for a little walk about a half hour after I eat and usually do my business. When nature calls I will guide my fosters to the front door and will scratch at the door to alert you I have to go out. If someone is home during the day they may take me for a walk and I do my bigger walk in the evening, then they take me again before bed at around 10 for a final bathroom break. On my first night in my foster home I was mortified to have a number 2 in my crate but since then I have not had any accidents in my crate or foster home. Foster mom has discovered that I usually do 2 and sometimes 3 movements in the evening. I eat all my meals in my crate. I am protective of my food. If I think the other dogs or cats are approaching my crate to take it, I will squeal loudly. I have not objected to my foster family approaching my crate when I'm eating. Sometimes I dump my bowl, this makes a mess and my food may roll outside my crate. Foster mom has solved this problem by sprinkling a little bit of warm water on my kibble this helps it stick in the bowl. Please continue to feed me in my crate as that is what I am used to. I feel much more secure dining in. Please although I have not objected to the people in my life approaching me when I'm eating, please let me eat in peace, do not allow dogs or humans to interrupt me when I'm eating and please don't ever put your hands in my bowl or any dogs bowl as this is our time to enjoy our meals. When I am finished eating please remove my bowl from my crate. If my bowl is still inside and another pet comes close I guard it by making lots of noise to warn them off. I am capable of taking a treat nicely but sometimes I do try to snatch it and need reminders that this is rude and I won't earn any treats this way. I love toys, mostly soft stuffies, balls, antlers or Nylebones. I got a squeaky stuffed glow worm from my fosters mom for behaving in Winners while she shopped, I love that thing! I was so proud carrying it out of the store. Sometimes I get a little crazy and do the zoomies with a toy in my mouth. I can get a little over zealous. It's very funny but foster mom will not laugh. She will usually just hold my leash and say " that's enough" When I do play with a toy it's only for a few minutes then I get tired of it and cast it to the side but I do like you to throw a ball for me and I can catch it in my mouth. When greeting I do try to jump up on you by putting my front paws on your legs. I am short and I want to say hello, but it's rude. When I do this foster mom ignores me and makes me sit. Once I sit and am calmer she will say "yes" and give me a little stroke under the chin. I am gradually learning that jumping up does not get me what I want. When I spend time out of my crate with my foster family I am relatively calm after the initial zoomies. Usually it's effective to burn off extra energy before settling down by going out for a brisk walk around the block. I love to hang out with the family watching TV ( censured of course ) I will happily lie in the dog bed and chew on a Nylebone or a antler. I may try to snuggle with you by attempting to jump up on the couch but please direct me to my cosy bed on the floor and reinforce my assigned place. Please keep my leash on and in hand at all times in case I need your guidance. Having my leash on makes it easy to catch me or direct me in my decision making. I do have to work on sit. If I'm asked to sit I often just stare at you blankly or think in means lie on my belly. Foster mom will gently pull up on my leash and use her other hand to tuck my bum down while saying " sit" then she praises me, I think I'm starting to get it but will have to continue to practice. I have no problem sitting for a treat but should be able to do it for praise as well. In the car I am quite good. I try to scramble up into the car on my own but I am little and need a boost. Please help me in and out so I don't get hurt. When I'm in the car foster mom puts me in my crate. When I see things along the journey such as people walking dogs, jogging or squirrels I will let out a very loud shriek that may scare the bejesus out of you, hold strong to your composure. Remind me of my manners by a firm, "No, leave it!" If I am not crated in the car please secure me by closing the handle of my leash in the door or tie the end of my leash to the head rest so that if you have to open the door I will not jump out of the car until you have my leash in hand and it is safe to do so. Please do not treat me like a baby and carry me around, treat me like a dog because that's what I was born to be. Not following through with this would be detrimental to my mental health and elevation status. Please allow me to be a dog and walk like the big guys! If something frightens me please do not tell me, it's ok and never pick me up to comfort me, this will only reinforce the fear. Continue to walk and act as confident and normal as possible. I will follow your example. I will need to accept being picked up to help me get into the car or onto the table at the vets when I have to be examined, I have not objected and have been very grateful for a necessary boost but do not like to be picked up by someone I do not know. When it is chilly outside I like to wear a sweater on my walks. I am very co-operative about having my foster family put on and take off my sweater. I don't like hot days and when it's hot keep my walks brief and preferably in the early morning before it gets to hot or when the sun goes down please offer me plenty of water. My foster family discovered that I do not like fire works, or thunder, if I hear them I shriek and get quite worked up. Foster mom makes sure if it's a night when fire works or a storm are to be expected she takes me out long before it starts. When they start she does not coddle me. She pops me in my crate, gives me a raw frozen chicken foot, covers my crate completely with my blanket and turns up the TV to drown out the sound. Making a fuss will reinforce that there is something to fear. I haven't objected to having my nails done! Foster mom even used the fancy Dremel on me! Please be gentle and don't forget to praise me. I also like being brushed and yes I do shed. When you bring any dog home it is highly recommended for 30 days that when ever the dog is not in its crate that the leash be on and leash be in hand at all times to keep the dog safe and to give it rules and boundaries. In my case I would continue with leash on until I show that I have been working really hard and am responding fully and respecting your directions: If you are a experienced, confident and patient dog lover. If you can commit and dedicate yourself to help me achieve balance and exemplary canine citizenship. I will reward you with laughter and joy for many years to come. If that's you Please go to www.findingthemhomes.com to apply for me, or ask any questions 🐾 Jeden
Visit Our Partner Website
This listing was posted on another website. Click here to open:
Go to Adopt-a-Pet.com
Important Safety Tips
Meet the seller and pet in person
Don't wire money or take advance payments.
Only pay for shipping if you know the seller.
To learn more, visit the Safety Center or click here to report this listing.
More About this Listing: Adopt Jeden a Tan/Yellow/Fawn - with Black Pug / Mixed dog in Oro-Medonte
Adopt Jeden a Tan/Yellow/Fawn - with Black Pug / Mixed dog in Oro-Medonte is a Black, Brown, Yellow Male Pug for sale in Barrie. Find other listings like Adopt Jeden a Tan/Yellow/Fawn - with Black Pug / Mixed dog in Oro-Medonte by searching Oodle for
Black, Brown, Yellow Male Pug Dogs
.