Adopt Bo a White - with Gray or Silver Husky / Mixed dog in Oro-Medonte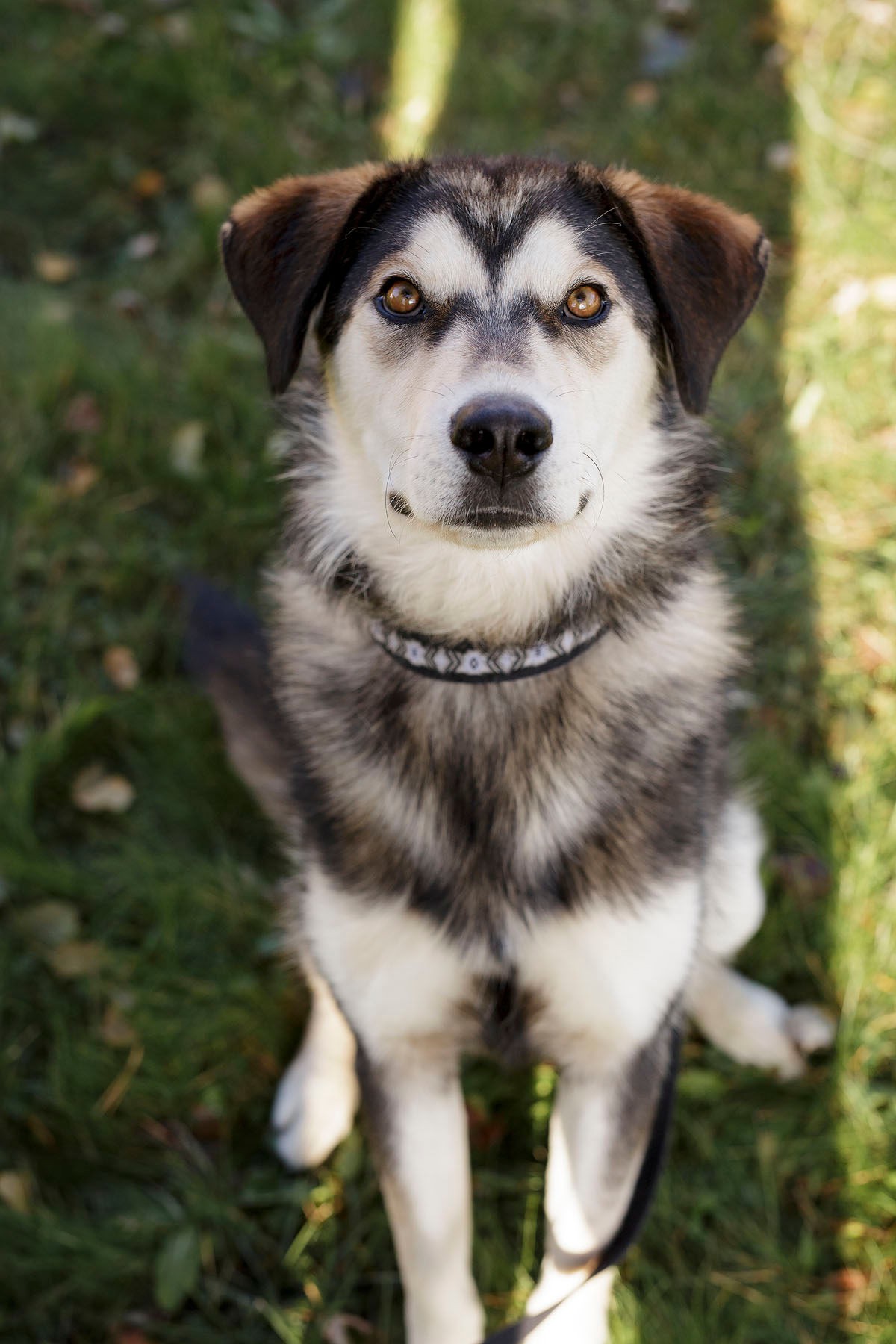 Location:
Oro Station, ON
Description:
ADOPTABLE DOG ALERT!!!Hey there! My name is Bo, and I'm looking for my forever home!Let me tell you all about me so we can become friends! I'm a very handsome and gentle boy. I'm an approximately 1-year old male husky mix weighing in at 58 lbs. I am vaccinated, microchipped and neutered so I'm all ready to go! Let's start off with my crate, so far, I have been a super good boy in my crate. I've been quiet as a mouse. When foster mum is working, I spend a lot of time in my crate because she says it's the safest place for me when she can't monitor. She says new dogs in the house should never be left to their own devices. Plus, my foster fur siblings and I are still getting used to each other so its safest for everyone if I am crated when we cannot be monitored. One thing I do want to let you know, is someone told foster mum I can be noisy in my crate and make a fuss. I haven't shown that side but anything is possible. The only thing noise I've made in my crate so far is some whining when my foster mum is taking my foster fur siblings for a walk and not me. In my previous foster home, I did struggle a bit with my crate at first so it is possible that I could regress without rules and boundaries. Generally speaking, foster mum has me in my crate 2 hours in, 2 hours out. Work days are a bit different because she is busy, but non-work time she tries to stick to this schedule. There is a blanket in my crate and there is a light sheet covering it. At night, the whole thing is covered but during the day, she leaves the front open so I can take in my environment. I am pretty good at going into my crate as well. Foster mum guides me over to my crate and in I go. I also eat my meals in my crate, this helps me to associate it with a positive space. I think its important for you to know that I am not a fan if my foster fur brother comes near my crate. I let out a growl. Foster mum tells me to knock it off and shoos him away. I do stop when she says. I'm not concerned when they are near my crate when she gives me a treat. I don't care if the humans are close and I haven't gotten annoyed when my foster fur sister is close just my foster fur brother. I can be a little shy around new people and may bark at new people that come into the house. I'm a little embarrassed to admit, I've barked at my foster dad when he's come home a couple of times. But that doesn't last long. It's just my way of making sure the people coming in are actually supposed to be there. I have met people outside of the house and have been a good boy. However, it's been said that I could jump up on people, I should not be allowed to do this at all. It's rude lots of people don't like it. I should only meet new people when I am calm and not when I am being silly. Foster mum has only seen me jump when I'm excited. Sometimes I make a clacking noise with my mouth because I'm so excited. I am really calm in the house and like to lay on my dog bed and watch tv with you. I haven't tried to get on the couch nor have I tried to counter surf. I did try to sniff the counter but foster mum just said Hey and I stopped. Counters are not for doggy noses apparently. I don't mind the broom either, it doesn't scare me at all. I will follow right along while you sweep. I actually like to take a sniff at the dust bunnies, they are real bunnies right? Teehee just kidding, I know its not real a real bunny. There are 2 dogs in my foster home. Both much older than I am. I very much prefer my foster fur sister. I am not a fan of my foster fur brother. I have gotten annoyed with him a few times. Foster mum manages it to ensure we are not too close to ensure everyone's safety. It does take time for us to get to know each other so maybe things will improve with time. For now, I'm a ladies man. Slow calm introductions between any new dogs are best so we can all decide if we like each other. I have lived with another dog before and we were good friends but it did take a bit for us to warm up to one another as well. Pack walks and chilling together are good ways to help with this. Remember its always best that everyone is calm when we meet so that no one takes offense to overly excited behaviour. My leash skills do need a bit of work, I won't lie. I do get easily distracted trying to smell all of the smells. There are a LOT and they smell soo good I just can't help myself! I do pull to get to the smells so my foster mum will give a little tug or quickly change directions to get my focus back on her instead of whatever it is that I want to check out. When I see other dogs on walks, its gone 1 of 2 ways. If they are calm and moving slowly, I have watched them go by. However, if they are either off leash or barking at me, I do this kangaroo hoping thing and pull towards them. I don't really make any noise other than to squeak but I do try my best to get at them. Foster mum is not happy with this, she says I am very strong, so we usually turn and go in the other direction. In the past, I have been known to talk back to those dogs who bark at me so reminders to "leave it" are always good. I will sometimes try to mark on our walks but foster mum says that's rude and only lets me pee once at the beginning and once at the end of our walk. I have not had any accidents in my foster home but I also haven't figured out how to tell the humans I need to pee. They do take me out pretty regularly to ensure success. I have been known to chew through leashes. So, I have had a metal leash. I don't really like to be tied up to anything and that seems to be when I have chewed my leash out of frustration so its best if my leash is in your hand when I am out of my crate. I have not chewed any leashes in my current foster home but foster mum never ties me to anything but her and she does pay close attention to me. Foster mom has been teaching me something called manners? She has to remind me to sit before I leave the crate or the house, and even before I come back in the house. Foster mum usually tells me to sit in a firm voice (sometimes it takes a few tries) when I'm in the crate and if I'm on the leash she will pull up on my leash as a cue for me to sit. It's hard when all I want to do is go explore, and I don't always remember what the words mean, but I'm pretty good when they guide me. My foster parents also like to handle my feet a fair bit, every time that I come in after the rain, they use a towel or a paw cleaner to wipe my feet and belly – I think they might have a foot fetish I don't mind them touching my feet so I just stand there and let them wipe my feet until they are done. I like being brushed as well. Its important to brush me often to keep my coat looking beautiful and it can help control some of my husky shedding. I have been on several car-rides already. At first, I wasn't too sure about getting in the back of the SUV and foster mom had to take a few runs at getting me into the back. Now, I have no problem jumping in if I want to, so foster mom will tap in the back and if my foster sister dog is going, I have no problem following her in. My foster parents secure the leash in the door before it closes, so they can grab it again before they open the door so that I won't escape as soon as the door opens, since I'm still learning to wait. Another interesting part of this week was that I got some new toys. I'm not really into toys just yet, but that might be because I'm still settling into life with my foster family. There's a squeaky toy that foster mom tried to get me to play with but I'm not too sure what I'm supposed to do with it? I do also have a nylabone which I like to chew on sometimes There are no kids in my current foster home but I have lived with two boys, ages 8 and 11. They were always happy to see me, and I liked seeing them too. Although I was super chill and calm around them, it's still important that I'm supervised at all times when I'm around kids of any age. Foster mum says that there is a cat here but I haven't seen her. Foster mum says I likely won't either because she is super old and foster mum doesn't want to stress her out so I don't know how I would be with a cat. I will admit I do try to chase squirrels and foxes. The first 30 days with me are the most important! My leash should be in hand both inside and outside so that I'm aware of the rules and boundaries. Everyone in the house also needs to follow "no touching or talking" so that I can learn independence and figure everything out. Paying no attention to me will also help me to be independent and it will also help to curb any negative or unwanted behaviours. Just remember that teaching me to be independent will make sure that I don't feel lonely when I'm in my crate, or when you can't give me attention. Leash and balanced training in the house for the first 30 days is a bit of work, it's best if you tie me to your waist and then ignore me as you go about your daily routines. I know it will be hard for you to not pay any attention to me but trust me, its super important and its what is best for both of us. That way I can learn how to follow your lead and behave in our home while we bond. I would also really benefit from balanced professional training which will help us build a bond rather than using treats as rewards all the time. Once I understand what you want and expect out of me, I can be the great friend you want me to be! Please remember consistent rules and boundaries are super important for us dogs. It helps us understand our environment and trust in our people. If you are looking for a calm sweet boy to join your home and promise to have patience with me while I settle in and help me become the bestest boy, I promise to be a wonderful life long companion to you. We can be best friends furever! If that's you, head over to our website, www.findingthemhomes.com and fill out an application!
Visit Our Partner Website
This listing was posted on another website. Click here to open:
Go to Adopt-a-Pet.com
Important Safety Tips
Meet the seller and pet in person
Don't wire money or take advance payments.
Only pay for shipping if you know the seller.
To learn more, visit the Safety Center or click here to report this listing.
More About this Listing: Adopt Bo a White - with Gray or Silver Husky / Mixed dog in Oro-Medonte
Adopt Bo a White - with Gray or Silver Husky / Mixed dog in Oro-Medonte is a Grey, White Male Siberian Husky for sale in Barrie. Find other listings like Adopt Bo a White - with Gray or Silver Husky / Mixed dog in Oro-Medonte by searching Oodle for
Grey, White Male Siberian Husky Dogs
.